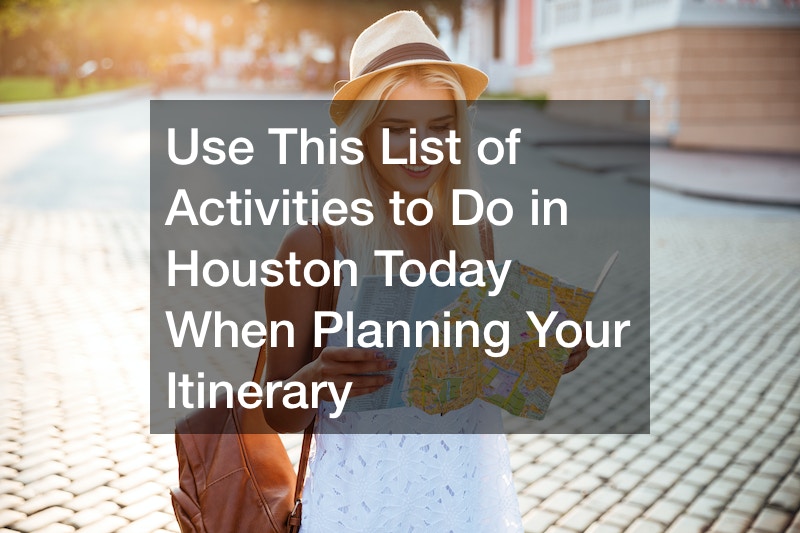 Houston is the largest city in Texas, home to more than 2 million residents. Many more live in the surrounding cities and suburbs and diversity is embraced and highly valued. Whether you're looking for amazing food, a chance to immerse yourself in nature, live sports, intriguing museums, or engaging music, visitors and locals will find a wide variety of opportunities.
Also, keep in mind that there are plenty of opportunities just outside of Houston in the larger metropolitan area. For example, Houston isn't famous for its beaches. However, Galveston is home to many of Texas's nicest beaches and is a short drive away. Likewise, you'll find lush bayous and other landscapes nearby.
If you take a look at lists of the fastest-growing cities in the United States, Houston, and its suburbs are often at or near the top of the list. That's because East Texas offers a great quality of life, relatively affordable living costs, tons of amenities, and an economy that has done especially well in recent years. Add in great schools, good infrastructure, and vibrant culture, and it's not surprising so many people love to live in or visit this city.
For both residents and visitors, H-Town, as it's often called, has a lot to offer. So if you're putting together a list of activities to do in Houston today, make sure you consider all of your options. We'll take a look at some of the most popular activities, but feel free to explore to your heart's content.
Houston Offers Sports Options Galore
When planning activities to do in Houston today, sports are definitely worth close consideration. This is true whether you'd rather play or watch. Houston is home to many professional and college athletic teams that can draw big crowds and put on competitive matches. That's great news for sports fans.
Houston is home to several professional sports teams, including the Houston Astros, which compete in Major League Baseball. If football is more your speed, consider the Houston Texans. Basketball fan? Then the Houston Rockets are certainly worth a watch. Soccer fans can check out the Houston Dynamo for men's soccer or Houston Dash for women's soccer.
Of course, if you want to catch a major sports team game, you'll need to do so while the professional sports season is in session. Tickets often sell out quickly, especially if the team is doing well, so sports fans should plan ahead. Also, don't forget the college teams. The University of Houston Cougars is one of the most popular college teams in the area and is well known for its football and basketball programs.
If you'd rather play than watch, you'll also find plenty of opportunities. Sign up for a gymnast class, or schedule a session at rock climbing walls. You'll find plenty of opportunities for both when visiting Houston. There are also many soccer fields, basketball courts, skate parks, and other opportunities in the so-called "Hustle-Town," so if you want to get out and move, you'll have plenty of options when planning activities to do in Houston today.
Hit the Golf Course
Golf is a sport, of course, and we've already mentioned some of the great sports activities that you can engage in and around Houston. That said, Houston's golf scene is good enough that it's worth considering discussing on its own. You can definitely schedule some great opportunities on greens and fairways when planning activities to do in Houston today.
Some of the best golf clubs include Memorial Park Golf Course, Wildcat Golf Club, and Hermann Park Golf Course. There's also the simply named Golf Club of Houston, which hosts PGA tour events. Many of the best golf clubs are just minutes from the city center. That said, take a gander at the suburbs and bayous and you'll find even more great golf clubs. The weather is often warm in Houston but many courses offer a golf cart service if you'd rather not lug a golf bag around.
Golf is so popular in Houston, some people even have their own golf carts. Many people also use golf carts to get around in natural areas, large subdivisions, and elsewhere. Houston is just a big place where a golf cart comes in handy. Fortunately, visitors and residents both can find easily accessible golf cart service repair shops and also golf cart retailers.
Reshape Your Body and Reshape Yourself
A long walk at the many parks scattered around Houston can help you get in shape. Ditto for playing sports, swimming, jogging, hitting the gym, and many other activities. Folks who like to be active often love the so-called Bayou City. If you're looking to lose weight, there are some other options in Houston worth your time, however.
One great option is to check out local body sculpting, or body contouring services as they are sometimes known. Not sure what this means? Essentially, a local body sculpting service will provide a variety of treatment and service options that could help people lose weight and get in shape. Besides shedding fat, this could also mean getting rid of excess skin or reshaping a specific part of the body.
Many different methods fall under body sculpting, including Cryolipolysis, which means using very cold temperatures to destroy fat cells. Another option is injection lipolysis, which uses deoxycholic acid to destroy fat cells. Ultrasound waves, lasers, and other tools can also be brought to bear and may prove effective for destroying fat or otherwise helping folks reshape their body to their desires.
Not sure which options might be right for you? That's okay! It's wise to speak with experts. They can take a look at you and your unique situation. Then they can provide advice. Also, if you'd rather lose weight through more traditional methods, like say working out, you'll find plenty of gyms and personal trainers.
Rest and Relaxation in Houston
After a great workout or session playing sports, the next item on your list of activities to do in Houston today could be some self-care and relaxation. Work hard, play hard, but in Houston, you can also rest easy when that's all said in done. Houston is home to many popular spas, salons, massage treatment centers, and more. Whether you live in Houston or are just visiting, it's smart to check out what the city has to offer in the R&R department.
Deep tissue massages may offer the best form of physical relaxation around. Fortunately, in Houston, it's easy to find expert massage therapists who can provide world-class deep-tissue massages. If your muscles feel tense and strained, it may be time to get some hands-on relief.
If you have dry skin or other skin problems, a hydrafacial session in Houston might be just what your body needs. Using advanced devices, skilled technicians can provide excellent care that will soothe and help reduce wear and tear.
Besides hydrafacial, you can also find more traditional beauty services throughout Houston. Whether someone is looking for a barber who can craft the perfect beard or hair highlight services that provide movie-star looks, they'll likely find it H-Town. Don't forget nail salons either.
The Great Outdoors Are Great in Houston
Looking to spend more time submersed in nature? Camping is also a great option, and you'll find plenty of campgrounds near Houston. Of course, getting around in campgrounds and nature areas can be difficult, but some spots offer a golf cart service. This way you can enjoy nature without overexerting yourself.
Houston also has many large parks and it's easy to find more green areas outside of the city itself. There are plenty of great hiking opportunities or chances for strolls along beautiful rivers, picturesque beaches, and elsewhere too.
Some folks worry about getting too far off the beaten path owing to a lack of restrooms and similar facilities. Fortunately, throughout Houston, you'll often find public restrooms or perhaps a restroom trailer. This makes it easier for the whole family to enjoy.
The Parties Go Well into the Night
Every great day comes to an end. Fortunately, when you're in Houston, the fun doesn't stop when the sun sets. Instead, you can head to a wide variety of great clubs, listening to live bands or a DJ. When it comes to music, Houston has great local artists and often big bands swing through while on tour. Whatever your musical tastes are, you'll likely find live performers or a DJ who will provide the beats you crave.
One of the great things about Houston, its many green areas, and the year-round warm weather, is that it's often easy to find music festivals. These festivals cater to a huge range of tastes. Country, hip-hop, hard rock, alternative, whatever your tastes are, you'll likely find great concerts and music festivals. It's pretty easy to catch a famous rock band or DJ. You'll also find great amenities, like awesome stages, clean restroom trailers, and more.
Beyond that, Houston also has a famous symphony. Folks who like classical instrumental music are sure to enjoy the live performances. Even if classical music isn't your thing, checking out a symphony is a life experience that's worth trying. Many people find themselves surprised, especially when they get to see a world-class orchestra like the Houston Symphony.
Comedy nights, live theater, dance clubs, even after the sun sets, folks can find many different options. Make sure you consider live entertainment when putting together a list of activities to do in Houston today.
Shop To Your Heart's Content
When it comes to shopping options, H-Town has you covered. There are tons of great malls and streets filled with boutique shops offering a huge range of goods. Whether shoppers are looking for stylish clothing, a custom jeweler, or even local new boat sales, you'll find it.
Texas generally offers a lower cost of living and affordable taxes. As a result, shopping in Houston is often more reasonable than shopping in say New York City or Paris. At the same time, you can still get all the stylish clothing and the hottest brands. So whether folks are staying in Houston long-term or just passing by, a trip to the mall should make the list of activities to do in Houston today.
Don't Overlook Big Purchases
Many people also come to Texas to purchase vehicles, like trucks, automobiles, and motorcycles. RVs and motorhomes are also popular. Looking to sail the high seas? If that's the case, then it's smart to swing by a marina to ask about local new boat sales. You can also find a golf cart service and retailer or even companies that sell facilities like a restroom trailer or storage trailer.
They say everything is bigger in Texas. At least as far as price tags, however, that's not true. That said, Texas in general, and Houston, in particular, offers a great quality of life and also an affordable cost of living. So anyone looking to make a big purchase should give the Lone Star state an extra look.
Fine Dining and Eclectic Tastes
From Tex-Mex to cuisines from across the world, there are tons of options in Houston. Whether you're craving affordable eats and pub grub, or fine seafood and other delicacies prepared by world-class chefs, there will be plenty of choices. And while the quality is often sky-high, finding reasonable prices is pretty easy, especially compared to other major global cities.
Don't forget sweets either. There are plenty of local ice cream shops that offer cool treats that can cool folks off even on the hottest days of summer. Bakeries also serve up a huge range of snacks and desserts, and it's easy to find unique foods and recipes. So when considering activities to do in Houston today make sure you keep breakfast, lunch, dinner, and snacks in between in mind.
As you can see, there are plenty of great opportunities in Houston and Texas in general. Local folks are often happy to help out, so feel free to ask for suggestions as well.