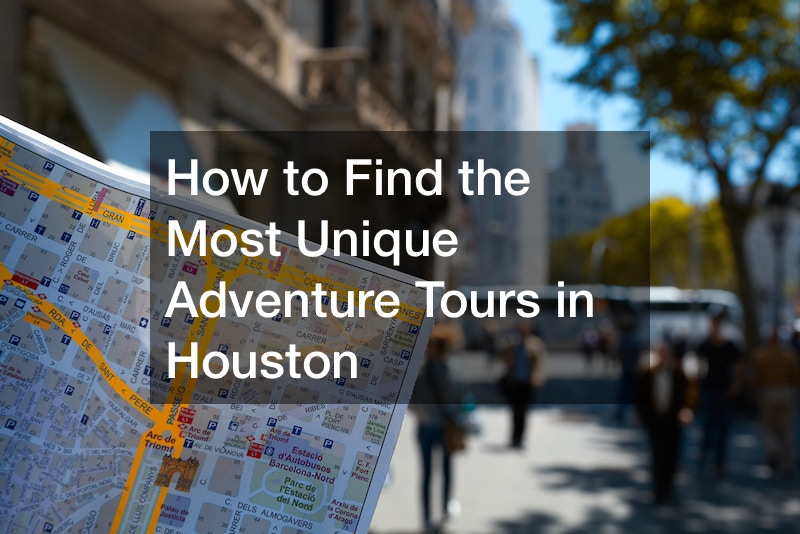 Adventure tours are 'must-do' activities, no matter where you go on your trip. However, they are essential in the Houston area. Thus, you will want to take full advantage of all the fabulous opportunities to participate in adventure tours in Houston. These are some of the top adventurous experiences to look for, what makes them unique, and how to find such events.
Playing All-Day Sports on the Beach

One idea for some fun adventure tours in Houston is to find a place where you can participate in sports on the beach. Beach volleyball is the most popular sport people play at the beach. Other typical sports individuals enjoy on the beach include rugby, sand soccer, frisbee, and spike ball. Playing such sports on the beach will be a once-in-a-lifetime adventure you will never forget.
The Houston area is, fortunately, where you can access several beaches. Sylvan Beach Park is close to Houston, about 30 minutes away in La Porte. The beach offers picnic tables, a children's playground, a boat ramp, fine sand, and pier fishing for just $4.
East Beach is another location to consider if you want to participate in unique fun. This beach is on Galveston Island, a little more than an hour away from Houston, but it's one of the only beaches that permits alcohol usage on the premises.
You will most definitely have volleyball tournaments on this site, and you'll also have access to jetskis, parasail events, playgrounds, and more. You can also choose from a healthy list of alternative beaches to visit. Your choice will depend on your preferences and what you value most on a beach.
Shop and Visit a Gun Range

One of the most creative ideas for unique adventure tours in Houston is visiting gun shops and then going to a gun range. You could travel to some standalone gun shops, department stores, and pawnbrokers to inquire about and research the most popular guns on the market.
Every stop could be a separate adventure where you learn new things and meet interesting people. Moreover, you might find a gun that interests you, purchase it, and visit a shooting range. The shooting range activity can account for the second half of your exciting adventure.
Houston has many gun shops and shooting ranges in the area. One such shooting range is the Marksman Indoor Range in South Houston. The site sells and rents firearms and has a gorgeous range for practicing and strengthening one's skills. You can sign up for membership and visit this range regularly during business hours.
As for standalone gun shops, there are many pristine places to shop for guns. You can also visit a pawnbroker to get a fair discount on your gun purchase. Remember that you may have to wait a few days to obtain gun purchase approval.
Pamper Yourself at a Day Spa

A day spa Houston shop is where you'll want to go if you want someone to pamper and spoil you completely. You can get various services at a day spa; one of the most popular services is massage. Some locations have masseuses performing the massages, while others might have massage chairs.
Another fantastic service you can get at a day spa is a makeup application or makeover. This service could be excellent if you're not someone who knows how to apply makeup or if you are seeking an entirely new look.
A makeup artist can examine your face and tones to find the perfect combination of colors for you. You may also be interested in getting a manicure, pedicure, facial, or body hair waxing service. All those services will be available at a reputable spa, and you'll get a one-stop-shop experience.
There are many day spas in the Houston area. Thus, you will have many reputable sites to choose from. One spa, Rumor Has It, offers many of the above-mentioned services to people who visit. You can use your search engine, GPS, or word-of-mouth inquiries to find other spas to visit in the area.
Go on a Vaping Expedition

Vaping is another activity that you can turn into unique adventure tours in Houston. You could dedicate many hours of the day to visiting local vape shops, asking questions, and trying products. The vaping industry has skyrocketed over the past five to 10 years. What used to be a limited industry now has an array of product choices, and you'll find something you like if you decide to take the journey and find the best vaping products.
Disposable vapes are only meant to last a short period. They can last from two days to two weeks, depending on how much you puff on them and the number of puffs they allegedly have. The best aspect of disposable vapes is that you can choose the nicotine content. Typically, you can select a device with no nicotine in it if you want to enjoy the flavors without getting hooked on it.
Alternatively, you can purchase a rechargeable pack or something that has replaceable pods. The choice is yours, and the options are extensive.
Vapes & Vibes, The Vapor Lair, and Urban Vapes are examples of stores you can visit in the Houston area. Why not make a whole adventure by visiting different shops and comparing the atmospheres, personalities, and product choices? You might have heaps of fun as you search for a new vaping device. Furthermore, you might come across great opportunities to take photos and videos for your social media account.
Enjoy All You Can Eat

Eating in a new town always makes for fantastic adventure tours in Houston. You can visit a different place for breakfast, lunch, and dinner and have loads of fun trying dishes you've never before had in your lifetime. Each restaurant will give you a different piece of the culture and some opportunities to take pictures and videos to share. You can also take some time to write reviews of the best dining experiences, and notating the bad dining experiences is a good idea, too.
When you're on an adventure, it's best not to eat the same types of foods when you're at home. Try to choose places that serve foods you've never experienced and may never experience again.
The Breakfast Klub is an exciting place to visit for a unique experience. This site is open in the morning from 7 a.m. to afternoons at 2 p.m. and serves only breakfast and lunch. The menu is full of interesting dishes that will give you a story to tell.
Cool Runnings is a great place to go if you've never had Jamaican cuisine. The restaurant serves jerk chicken, curried chicken, oxtail, and more.
Visit an RV Park

Staying at an RV park is an exciting experience you can embark on as one of the most enjoyable adventure tours in Houston. Staying inside of RVs will give you a humbling experience because it will show you how to live with the most minimal items. An adventure of this type can also be a peace-seeking experience.
Many people go out to the woods and campgrounds to spend some time alone and get a little serenity. This adventure will allow you to do that and collect memoirs to pass on to your friends and loved ones simultaneously.
Houston has many RV parks and resorts you can stay at while in the area. One example is a place called the Highway 6V resort. This resort has a computer room, swimming pool, laundry facilities, and more, and it's one of the 'more than bare essentials' facilities. The Lakeview RV Resort is another option to consider, and it is also a facility that provides a heap of amenities. You'll have access to a laundry room, jacuzzi, swimming pool, and the like.
If you want to expand your adventure, consider signing up to be a helper at one of the RV parks or campgrounds. You can take a seasonal position and have lots of fun exploring the possibilities there.
Ride Around and Take Pictures of Monuments

Another one of the most magnificent adventure tours in Houston is one where you visit several of the monuments in the area. Monuments are always great places to gather historical details and information about the area, and Houston has many significant monuments. You can dedicate a certain amount of time to each monument, visit it, and then take numerous snapshots.
The Fallen Warrior Memorial is one place you can go if you want to spend some time by a monument. Texas dedicated the memorial in 2012 to soldiers who lost their lives in Iraq and Afghanistan.
If you are an ex-president George H.W. Bush fan, you may want to visit Sesquicentennial Park. There stands an 8-foot statue of the former president by his supporters. The statue is worth more than $1.7 billion, and Chas Fagan designed it. You can stop by it on your amazing journey and get a few snapshots for your collection.
Houston has many other monuments, memorials, and statues. Therefore, you can spend an entire day visiting the area's most respected artistic pieces.
Go on Some Fabulous Boat Rides

No adventures are quite as exciting as boat ride adventure tours in Houston. Therefore, you may want to get a boat registration so that you can get out on a boat and explore everything Houston offers. You have two choices regarding boat tours and rides.
You can go on a full-service tour where you sit in the boat, and someone else navigates it, or you can drive yourself with a lifeguard and instructor next to you on another ship. Either experience will be unique and give you some remarkable stories to take home.
The Sam Houston Boat Tour is an adventure you might consider going on. This boat tour has been operating since 1958, taking people around the Houston waters. The boat they use can fit up to 100 people on it. Interested parties can make reservations using a quick and easy scheduling tool that shows available and unavailable dates.
Alternatively, they can contact the facility and speak to someone who can help them choose the most advantageous date. The best part about this particular tour is that it won't cost you much. As a matter of fact, it's completely free, and it's an excellent way for you to kick-start your adventure tours in Houston.
Visit Some Casinos

Gaming is always one of the most enjoyable experiences to have. Therefore, trips to the casinos can make some great adventure tours in Houston. Taking your friends and family to all the gaming sites and indulging in the games could be an exhilarating experience. You might even win some cash you can bring home with you.
Houston is not a location with a large number of full casinos. However, there are a few places you can visit if you want to get a gaming experience. One such place is the 101 Poker Club on Katy Freeway. The 101 Poker Club focuses on the game of poker mostly. However, they have daily tournaments, delicious food, and the feeling of being in an old-fashioned casino.
The Kings and Cards Poker Club is another location you can consider visiting if you are going to spend time in the Houston area. Again, the location primarily focuses on poker, but it will give you the feeling of being at one of the most popular big-time casinos.
Visit a Coin Collector

Coin collecting is one of those eccentric hobbies that not everyone discusses frequently. Visting coin collectors would be interesting for adventure tours in Houston.
You now have an extensive list of adventure tours in Houston. You owe it to yourself and your loving family to get signed up for one of these fantastic tours and give everyone the time of their lives.
A Google search will give you a few ideas of where you can go to talk to people about buying and collecting coins. Houston Coin Buyer, Southern Star Coins, and Royal Coin and Jewelry are the names of a few places you can go to gather some information about the coin-collecting industry and its history.
Those are just a few ideas about adventure tours in Houston. Try these exciting suggestions and have a wonderful time.